Market analysts recognize the need for data security platform and TrustLogix has been recognized in various analyst reports
As businesses strive to become more data-driven and their data footprint expands across multiple data clouds, they encounter hard data access, security, and compliance problems. Market analysts are monitoring the data security space closely to identify the vendors who are solving these hard data security and posture management challenges and helping clients explore new opportunities. We believe our recognition in multiple analyst reports comes from our team's efforts to support TrustLogix customers. We let our customers speak for us!
TrustLogix provides a non-invasive, proxyless, agentless, no-code alternative to traditional data security methods. With a containerized and serverless architecture, TrustLogix ensures secure data access consistently across multiple data clouds, and scales natively on demand.
Recognized as a Sample Vendor in Gartner® Hype Cycle™ for Data Security, 2023
According to the Gartner® "Hype Cycle™ for Data Security, 2023" report, data security platforms are currently in the Innovation Trigger growth phase with a Benefit Rating of "High". TrustLogix was recognized in the report as a Sample Vendor for Data Security Platforms.
One of the customer reviews shared on the Gartner Peer Insights™ states, "We are in intermediate stages of our cloud journey where we are enabling a diverse set of use cases while ensuring that various personas owned by multiple teams are able to access the platform with correct entitlements utilizing standard RBAC/ ABAC mechanisms. The TrustLogix Team is very knowledgeable in the Data Entitlement & Security space. They are also approachable, flexible & respond to critical issues quickly."
According to this Hype Cycle report, "Traditionally, data security has been delivered by disparate products, which has resulted in operational inefficiencies and an inability to support, for example, data risk assessments, open data, commercial data, and internal innovations and collaboration involving data. Especially in cloud-based data stores, a DSP reduces integration cost, manual work and friction by connecting previously disparate data security controls and capabilities."
Innovation Leader in KuppingerCole's "Leadership Compass"
In the "Leadership Compass for Data Security Platforms," an independent report published by KuppingerCole earlier this year, TrustLogix was highlighted as an Innovation Leader and Overall Challenger. It provided gratifying validation of the work we've done with our Fortune 500 and enterprise clients, as well as our strong technical and GTM partnerships with industry powerhouses like Amazon Web Services (AWS) and Snowflake.
KuppingerCole, headquartered in Europe, specialize in the strategic management of digital identities, privileges, authentication, and access control as well as cybersecurity and business resilience. Our recognition from an EMEA-based analyst group speaks to the success TrustLogix has had globally with our customers and the global nature of the data access management challenge.
Named to Prestigious CyberTech 100 for Financial Services
TrustLogix was named to the CyberTech 100 list of the world's most innovative technology providers in the financial services sector. The financial services industry is a high value target with rigorous security and compliance standards. Inclusion in this list showcases the power of the TrustLogix solution for this high stakes industry. Sponsored by FinTech Global, the CyberTech 100 finalists were selected by a panel of analysts and industry experts from a list of more than 1,000 companies. The list is considered the "companies every financial institution needs to know about as they consider and develop their information security and risk management strategies."
FinTech Global director Richard Sachar noted, "With the average cost of data breaches being in the millions, it is critical firms look for the solutions that can guarantee their protection, particularly as the tough economic climate puts pressure on finances. This year's CyberTech100 list arms companies with the necessary information to find the industry change-makers who are providing companies with the opportunity to be well protected against these threats."
TrustLogix's Cloud Data Security Platform is proven to help financial services firms protect data and mitigate risk. A leading global, investment banking and capital markets firm turned to TrustLogix to help them monitor and manage their data security posture. Read our case study to learn how the TrustLogix platform has helped them track data sprawl and anomalous activity, providing visibility into what tools are connecting to Snowflake and what data is being moved in and out, and accelerating the onboarding of new users in a secure and compliant manner, enabling faster adoption of Snowflake across the firm.
See It For Yourself
The data security platform is being noted as a critical component in today's cyber landscape, as businesses seek out tools that can stand up to the complex business requirements and massive data volumes typical of modern enterprises.
We'd like to have you tell us what you think. Get started with a free data security audit and try the TrustLogix platform for yourself.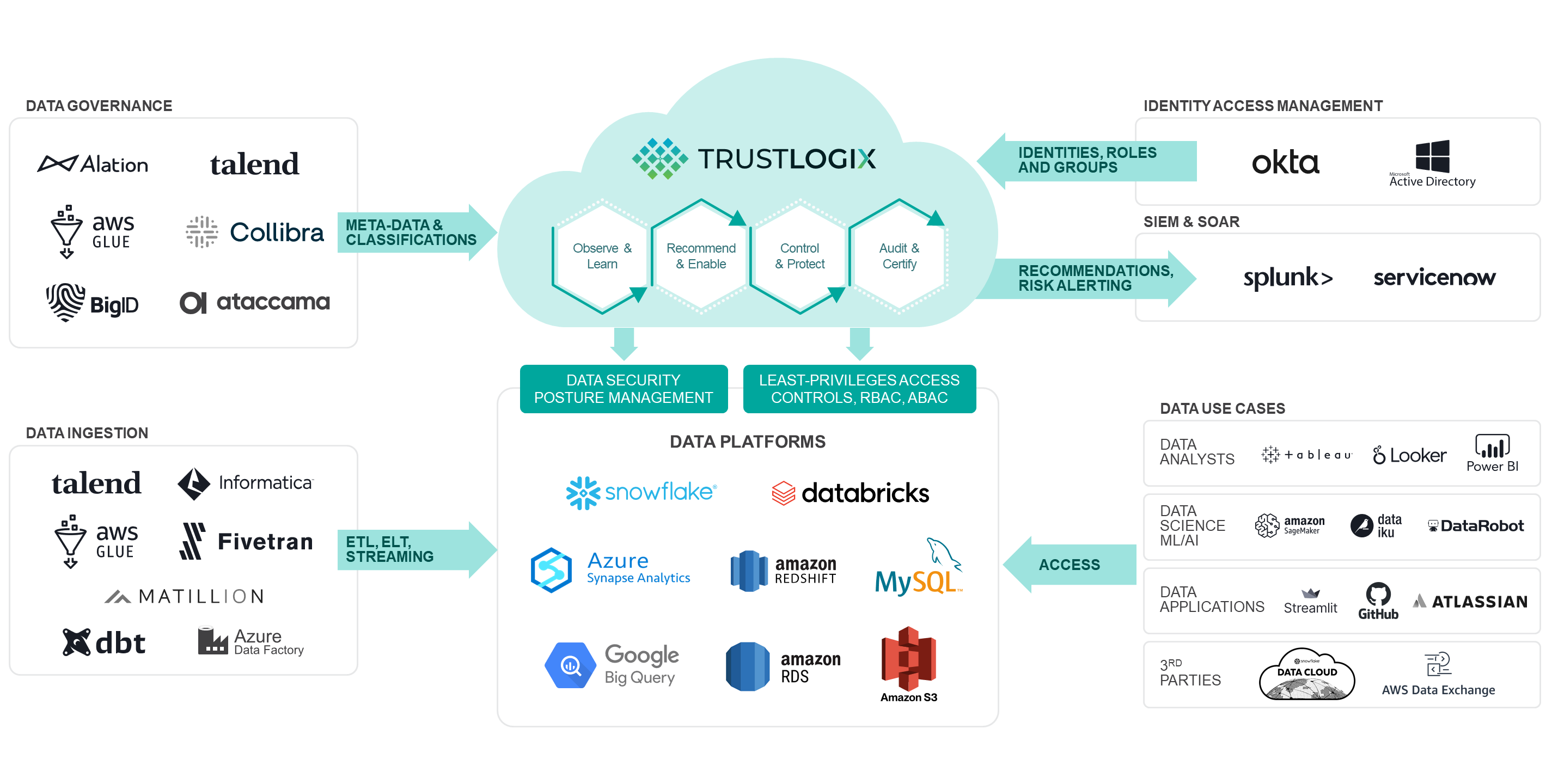 GARTNER is a registered trademark and service mark of Gartner, Inc. and/or its affiliates in the U.S. and internationally, HYPE CYCLE and PEER INSIGHTS are registered trademarks of Gartner, Inc. and/or its affiliates and are used herein with permission. All rights reserved. Gartner does not endorse any vendor, product or service depicted in its research publications and does not advise technology users to select only those vendors with the highest ratings or other designation. Gartner research publications consist of the opinions of Gartner's Research & Advisory organization and should not be construed as statements of fact. Gartner disclaims all warranties, expressed or implied, with respect to this research, including any warranties of merchantability or fitness for a particular purpose. Gartner Peer Insights content consists of the opinions of individual end users based on their own experiences, and should not be construed as statements of fact, nor do they represent the views of Gartner or its affiliates. Gartner does not endorse any vendor, product or service depicted in this content nor makes any warranties, expressed or implied, with respect to this content, about its accuracy or completeness, including any warranties of merchantability or fitness for a particular purpose.