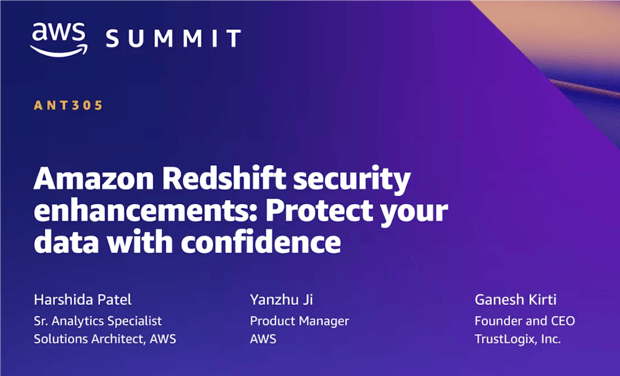 TrustLogix was honored to be at the AWS Summit New York 2022 during the Amazon Redshift Row-Level Security (RLS) launch presentation, featuring the following speakers:
Harshida Patel, Sr. Analytics Specialist Solutions Architect, AWS
Yanzhu Ji, Product Manager, AWS
Ganesh Kirti, Founder & CEO, TrustLogix
Harshida spoke about the customer perspective and what their data security challenges are. She covered Redshift's security architecture, finishing with how Redshift tackles Column-Level Access Control.
She then handed things over to Yanzhu, who presented the new RLS capabilities that AWS announced that day, and how that adds another layer of granular data access control to Redshift's security architecture.
Finally, Ganesh discussed how TrustLogix has delivered a rich integration for the new RLS feature that enables customers to leverage this powerful capabilities from the TrustLogix console in a no-code and highly controlled and scalable way.
You can access the replay of the presentation here.